Deployment
Immunization & Inventory Implementation
The implementation of a Public Health Information Management System was initiated in December 2014 with the launching of the Inventory module with the Manitoba Distribution Centre and Manitoba Health, Seniors and Active Living. This implementation laid the foundation for public health staff to start using PHIMS. Deployment of the Immunization and Inventory modules of PHIMS by regional health authority public health programs was completed over the February to June 2015 timeframe.
One First Nation community, Fisher River, was deployed as the pilot site for the First Nations deployment in March 2015.
As of January 1, 2019, approximately 940 people currently have access to use PHIMS. Immunizations provided to Manitobans are now being recorded in PHIMS either through direct entry into PHIMS (primarily by Public Health users) or via the interfaces from the Physician Billing System and the Drug program Information Network (DPIN) – which consists of immunizations dispensed by pharmacists.
First Nations
Since the implementation of the pilot site at Fisher River, the PHIMS First Nations deployment team has been working collaboratively with First Nations communities preparing for PHIMS Phase 1 deployment. Of the 63 First Nation communities in Manitoba, 22 are included in the Phase 1 deployment. First Nations and Inuit Health Branch, Health Canada and West Region Treaty 2 and 4 Health Services are included in the Phase 1 deployment as bridging service organizations entering data on behalf of the 41 First Nations communities not included in the Phase 1 deployment.
The following diagram shows the implementation process: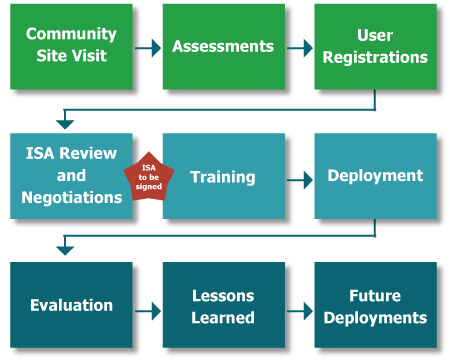 Initial community site visits to the 22 sites by the PHIMS First Nations deployment team are complete. The following activities occurred at these visits:
introduction to PHIMS for leaders and staff including time for questions and answers
readiness assessments of both staff and technical infrastructure
identification of who will be using PHIMS
The deployment team has completed current state assessments in collaboration with the communities and has provided demonstrations of the PHIMS software to health providers and leaders. User registrations have been completed in anticipation of deployment.
Information Sharing Agreements (ISA) are an essential part of successful joint deployment processes. The First Nations Principles of Ownership, Control, Access and Possession are critical to ensure that First Nations data is accessed appropriately and protected. Nanaandawewigamig/First Nations Health and Social Secretariat of Manitoba (FNHSSM) and Manitoba Health, Seniors and Active Living (MHSAL) are currently working on obtaining signage on a comprehensive agreement that respects First Nations data and supports First Nations participation. First Nations Inuit Health Branch is working on a Bridging service agreement. A bridging service Agreement authorizes FNIHB to enter Information into or access Information from PHIMS on behalf of First Nations communities that lack and/or has inadequate broadband connectivity to access PHIMS directly. Following signage of the respective ISAs, PHIMS training and deployment will be scheduled and delivered.
Regional Public Health
With the support of the project coordinators, regional public health programs led the deployment of the Immunization and Inventory modules within each of their respective regions. Training was completed using a train-the-trainer approach. Public health leaders continue to meet quarterly for ongoing reinforcement and support.